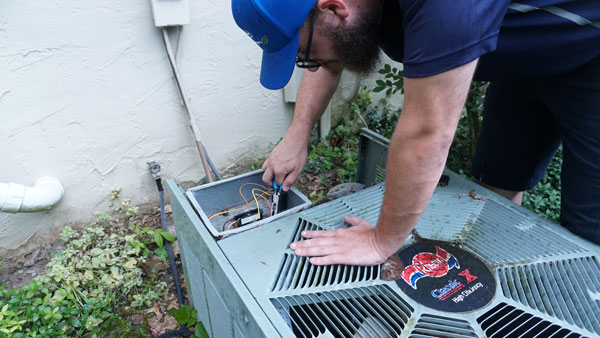 Air Conditioning Installation & Replacement Services in Dayton, OH
Are you thinking about replacing your central air conditioning system, or having a new one installed? With so much information online these days, and so many different places listing vastly different prices and recommendations, one can easily get lost in the process.
Your friends at Five Star Heating & Cooling Dayton can install a high-efficient air conditioning unit in your Dayton, OH home today! We have years of experience with all sizes of A/Cs, houses, makes, and models. Schedule A/C installation services today!
Broken System? No Problem.
If you're unsure whether you should put money toward repairing your air conditioner or if it's time to replace it altogether, schedule a Diagnostic Service Call with Five Star Heating & Cooling Dayton. We'll inspect your system, find the issue, and discuss with you the best options.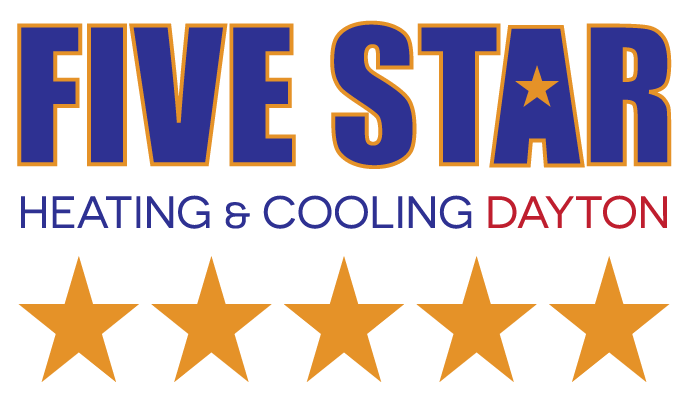 $49 Diagnostic Service Call
SAVE $50 | Regularly $99

When to Replace Your Air Conditioner
If your AC system is 10 to 15 years old, as a general rule of thumb, it might be time for a replacement. This age, it goes without saying, varies depending on a variety of factors, including how it was installed, how AC repairs have been handled, and most of all how consistently it has been maintained.

Signs of a Problem:
It's making strange sounds
There's inconsistency in cooling levels
There's freezing on the coil

Your electric bills are higher

There's moisture leakage

Oily residue on the parts

The thermostat reading is lower than the actual temperature

What Kind of Warranty Do I Get?
Most AC manufacturers offer a 10-year warranty on the equipment. To go with that, we offer our own 10-year labor warranty on all our AC installations, in addition to any limited warranty provided with your equipment or extended warranty offered by the manufacturer. If something fails because of our installation, you are covered 100 percent. Just give us a call and let us know and we will fix it.

How Efficient is a New Unit?
When an AC system is more than a few years old, it starts to cost more to keep it running, adding up to annual expenses that might not make sense. Upgrading your AC system with a newer high-efficiency unit can decrease your monthly cooling bill by up to 50 percent. As such, your equipment essentially "pays for itself" rather quickly. In the meantime, you get to enjoy enhanced temperature control, a quieter and smoother running system, and last but not least, superior indoor comfort.
We also make sure your AC unit or heat pump has a S.E.E.R. rating and output that is the perfect fit for your home's exact size, so you don't end up paying for energy you can't use or feeling the heat for the lack of it.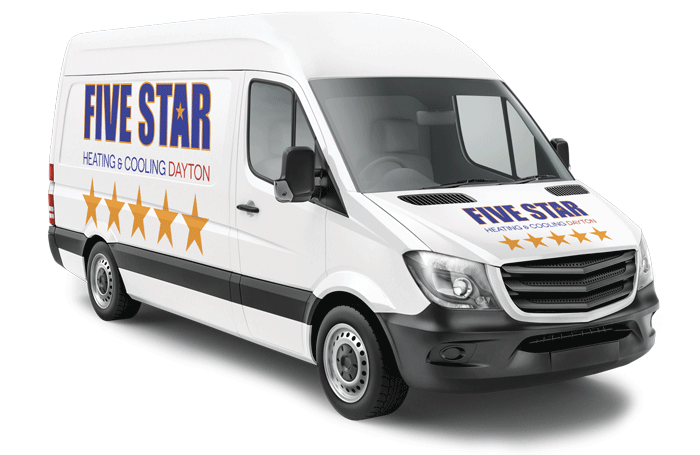 Air Conditioner Replacement Services
Can Five Star Dayton Replace My A/C?
Five Star Heating & Cooling Dayton can work on any equipment (or parts connected to it) used in heating your home. This includes electric heaters, gas heaters, heat pumps, and ductless mini-split and zoned systems. Our top-notch HVAC service technicians drive state-of-the-art service vans fully stocked with all the latest in technology. When we service your system, if we find any part is faulty, we can replace it on the spot with your approval. We are prepared to handle anything, including ignitors, pilot lights, heat exchangers, breakers, fuses, burners, blowers, heat strips, switches, valves, and control boards.
Financing Options in Dayton, OH
Quick & Easy HVAC Financing
If you need some financial assistance in upgrading your home's HVAC system, or if you need help covering the cost of repairs, we encourage you to check out our financing options. We at Five Star Heating & Cooling Dayton have worked for years with local financial institutions to assist our customers. Learn more about our financing options today!