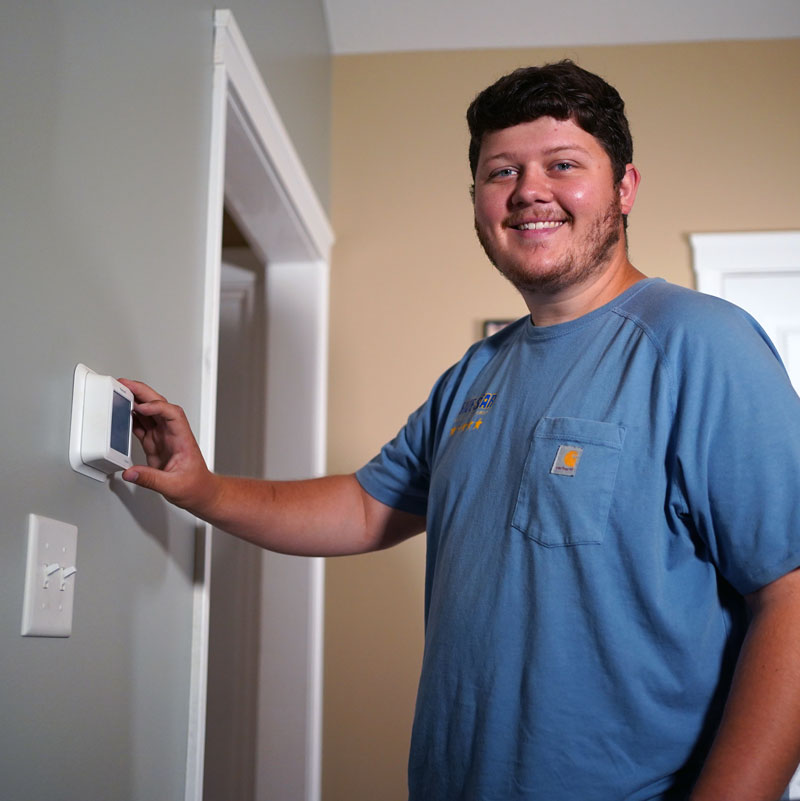 Wi-Fi Thermostat Upgrades in Dayton, OH
The thermostats of today are a far cry from that old hockey-puck-looking dial on the wall many of us grew up with. In addition to their cool design features and fancy futuristic displays, these thermostats are operable from any smartphone or smart device, and they're compatible with many other Indoor Air Quality products. You can control your heating and cooling systems and air purifiers, humidifiers, dehumidifiers, ventilation systems, and any other IAQ components with some thermostats.
Most of the newer thermostats on the market these days are programmable or smart, and they're designed to conserve energy, prevent waste, and lower overall costs. Because they are more advanced, they have better control over the temperature and air quality. As such, a thermostat upgrade equates to more efficiency and better temperature consistency in your home. As such, not only are they convenient to use, but they save you money on utility bills and keep your HVAC system optimized. Schedule a thermostat installation with Five Star Heating & Cooling Dayton today!
Free Online Estimate
There comes a point when your furnace, heat pump, or AC just doesn't cut it anymore. Maybe your energy bills have skyrocketed, or the rooms in your home are heating or cooling unevenly. Whatever the case, it might be time to consider a Columbus area furnace replacement. Choose Five Star Heating & Cooling! We'll come out an asses your system, home and your needs - for free.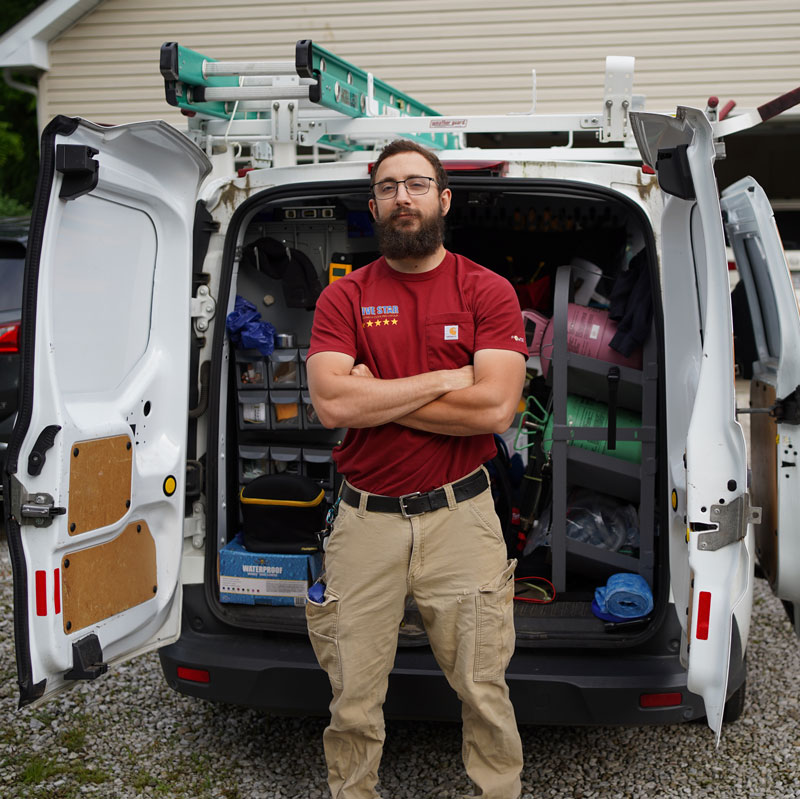 4 Benefits of a Smart Thermostat
Over time, your current thermostat will start to function with reduced efficiency and accuracy. Whether you're looking to upgrade to a programmable or smart thermostat, there are many benefits, including:
Keeps Maintenance In Check
It's no secret that an HVAC system can be somewhat costly. Therefore, it's in the home or business owner's best interest to keep their HVAC system in check. However, it's also very easy to forget about the state of your HVAC system when caught up in day-to-day life. Smart thermostats will notify you when your system needs maintenance or if something is wrong. It can also detect if your system is using more energy than usual, which could indicate an HVAC system malfunction.
Control Temperature Remotely

If you're coming home early and want your A/C on before you arrive, you can simply log into the thermostat's app and turn it on. If you're going on vacation, you can change your cooling schedule to keep the house warmer while you're gone. Your thermostat will send alerts to tell you if the inside temperature in your home has fallen below, or risen above your set limits.
Better Tracking & Visibility
Depending on the system, you will have the opportunity to choose a thermostat with almost all TV-screen-like controls. No more wiggling the sensor to get the temperature just right, or squinting in the dark in the middle of the night. These new controls will clearly show your designated temperature along with all of the other controls.
Schedule HVAC Usage
Most smart thermostats have movement detectors so they can sense when family members are home and active. Over time, the thermostat can learn when the house needs to be cooled or heated based on your family's movement patterns. It can even use this data to adjust a heating and cooling schedule to account for seasonal changes regarding how you use your home. A smart home thermostat can also monitor the weather and regulate your home's temperature accordingly.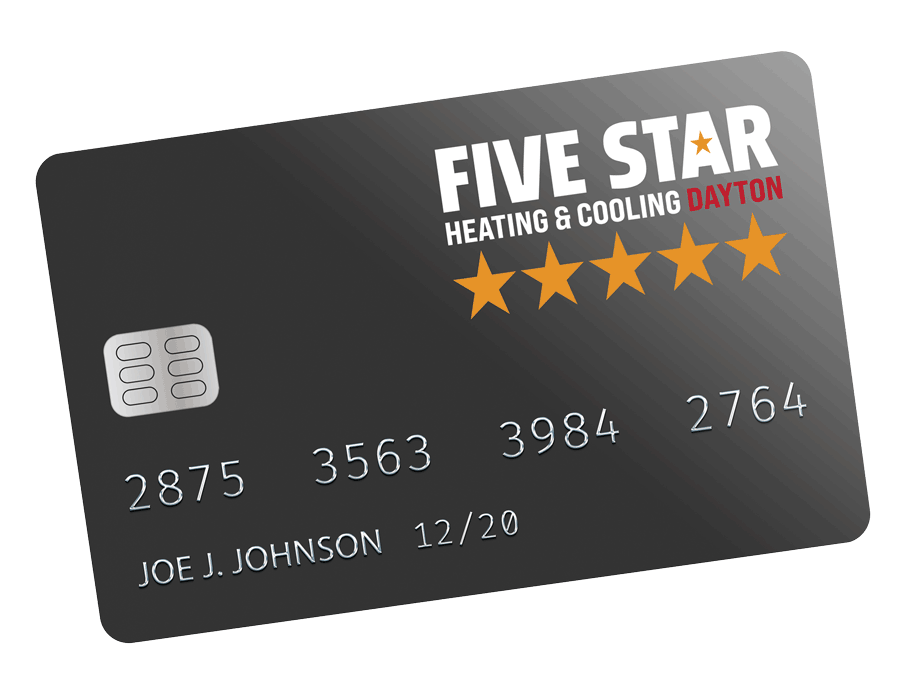 HVAC Financing for Homeowners in Dayton, OH
It's never been easier to get the best possible system for your home and pay over a period of time. HVAC system replacement can come as a surprise. We at Five Star recognize this, and that's why we offer different payment plans so you can enjoy comfort immediately, regardless of your budget. And when combined with tax credits, rebates, and online deals, financing makes your family's long-term comfort remarkably affordable. Buy today and pay over time with HVAC financing in Cincinnati, OH & surrounding areas.
Upgrade Your Thermostat in Cincinnati with Five Star
Keep it clean
Just like your car, your heating and air conditioning systems need regular maintenance to keep them working efficiently. Change filters every three months or as recommended by the manufacturer, and call a qualified technician for an annual tune-up. Professionally maintained systems are less likely to break down and more likely to live beyond the average life expectancy.
Check Your Décor
No matter how nice your home looks, it's bad design if furniture or curtains are blocking your vents. You should also let your window treatments help you save energy — keep them open during cold weather days to benefit from the warmth of the sun, but close them on hot summer days to avoid straining your AC.
Consult With Experts
Not technology savvy? Confused by your programmable thermostat? If you moved into a home with a thermostat you don't know how to operate, or you're not sure it's accurate, contact the manufacturer or an energy efficiency expert for help.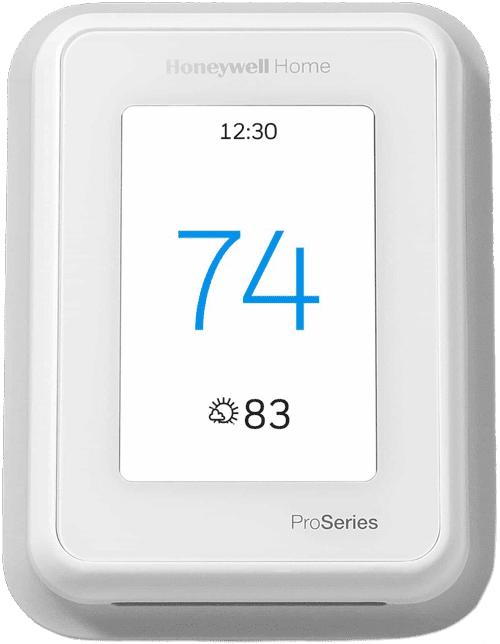 The Gold Standard in HVAC Services Since 1972
We at Five Star Heating & Cooling Dayton are the real deal. We always strive to leverage the highest quality of services and superior HVAC products at the most competitive price rates in the local market. We strive to offer our customers the most and maintain our Five Star reputation. On each and every job we do, we guarantee customer satisfaction across the board because your satisfaction is our highest priority. We also have a Best Price Guarantee on all the industry's top equipment, with customer-focused hours.
For residents looking to stay cool during the hot Ohio summers, we have around-the-clock emergency HVAC repair service (365 days a year) as well as affordable A/C installation and air conditioning system replacement. We also have emergency furnace repair (available day and night as well), heat pump repair, furnace installation, and Heating system replacement. We service all brands and types of HVAC equipment, no matter the age! If you're looking to improve your home's Indoor Air Quality, we also offer a whole line of products that include humidifiers, dehumidifiers, air purifiers, UV lights, smart thermostats, and special air filters. This is in addition to the air duct cleaning service we provide for those who suspect their ductwork might need a professional hand.
Do you need to purchase a new residential furnace, heat pump, or air conditioning system but cannot pay all at once? Check out our current financing offer we at Five Star Heating & Cooling Dayton offer customers. We also have online deals that can't be topped in the local market. Our service areas include Greater Dayton, including Kettering, Jamestown, Springfield, Beavercreek, Fairborn, Xenia, Fairfield, Springboro, and much more. Experience the Five Star Difference today!
We Service All HVAC Brands

Experience the Five Star Difference.


Free Estimates
Schedule Now

Service Call
with a paid repair