Residential Heating, Cooling & Air Quality Services in South Charleston, OH
At Five Star Heating & Cooling Dayton, we offer every kind of HVAC service imaginable, from A to Z, all of which come at competitive, affordable, prices our competitors find hard to beat. And we are happy to extend these services to all the residents of South Charleston, OH. Check out our special online deals!
In addition to HVAC system repairs and installations, for residents looking to get the most out of their system and save money on energy bills, we provide AC maintenance and furnace maintenance year-round on all varieties of home heating and cooling systems, or any HVAC system for that matter. Experts strongly urge homeowners to take advantage of routine preventative HVAC maintenance before the commencement of each season of usage, regardless of the system or its age. Choose Five Star Heating & Cooling Dayton for your next Heating, Cooling, or Indoor Air Quality needs. Experience the Five Star Difference in Dayton, OH!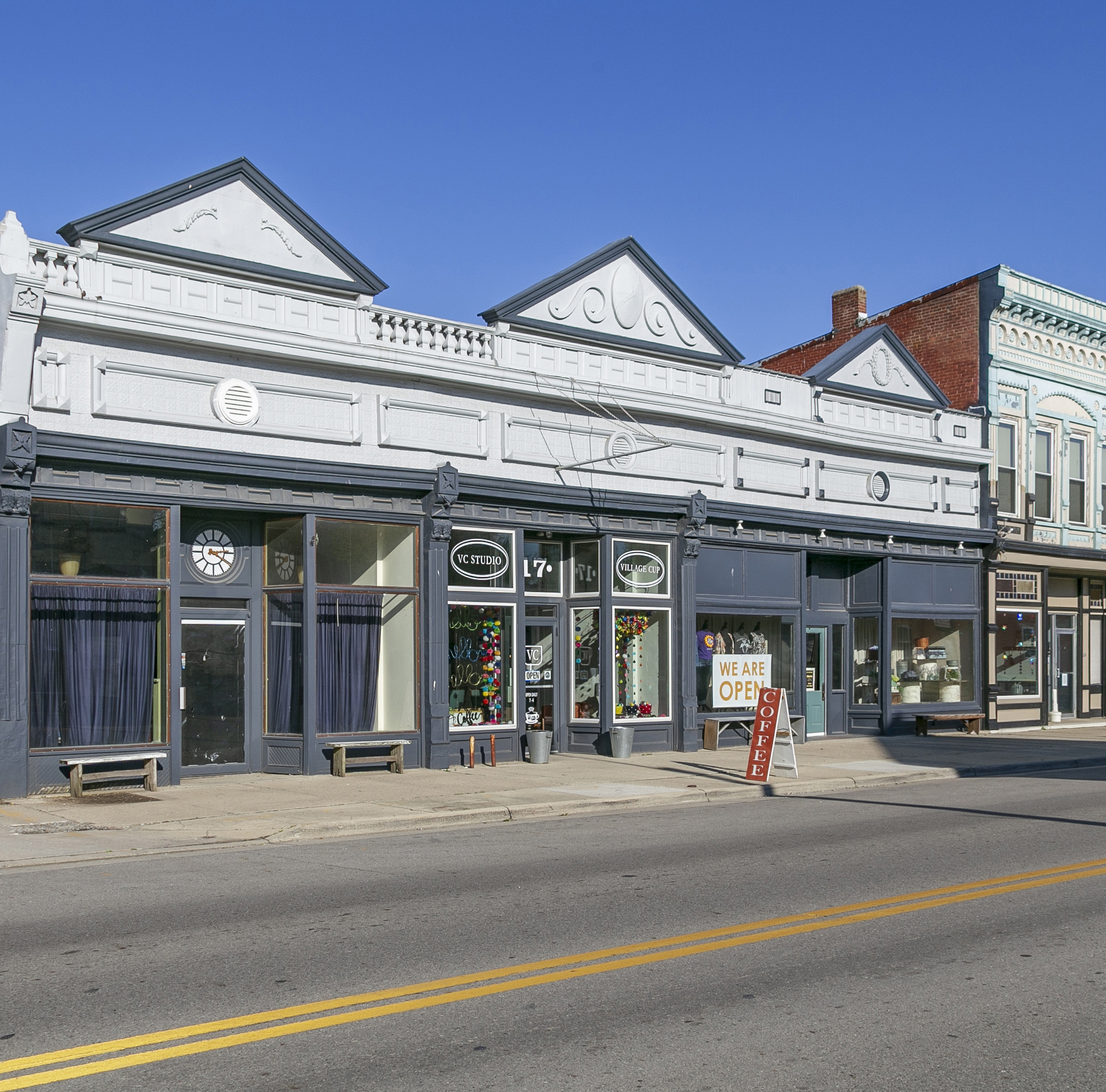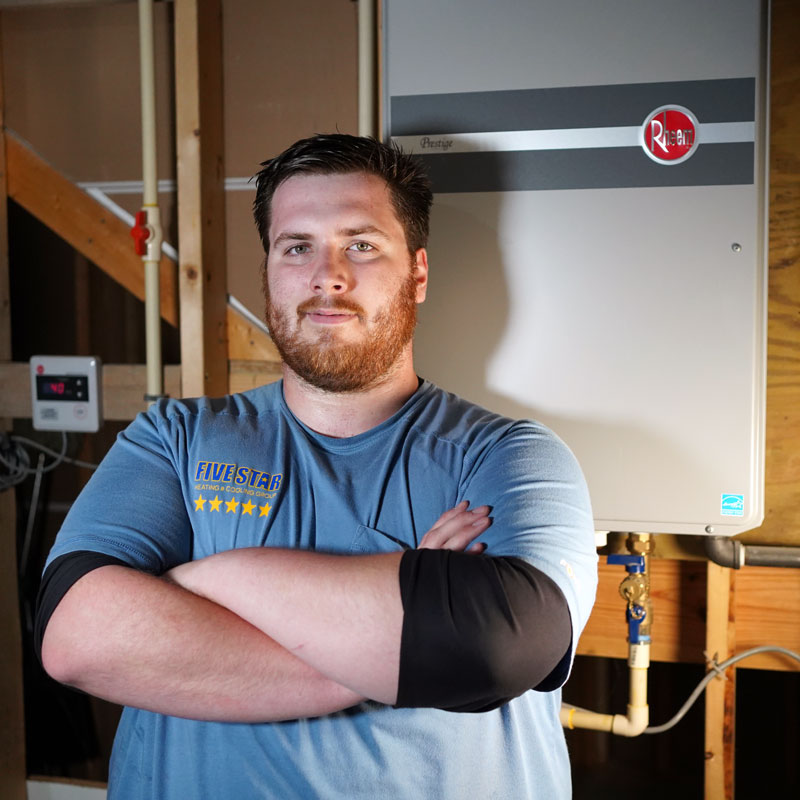 South Charleston HVAC Repair, Service & Installation
Tucked quietly away in the southeast corner of Clark County, the Village of South Charleston is a friendly small-town atmosphere within a pleasant country setting. By automobile, it is less than an hour from Dayton, Columbus, and suburban Cincinnati. In 1815, a Pennsylvania man, Conrad Critz, first platted South Charleston out of the wilderness that was Ohio. The growth here was accelerated in the 1950s by the advent of the Columbus & Xenia Railroad, which brought an influx of workers who became settlers.
With the advent of mechanized farming, the economy in South Charleston continued to expand its agricultural base during the era of the Civil War. In 1878, when workers finished the second railroad going through South Charleston, the town further increased the prosperity of area residents. Today, the population is estimated to be around 1,693 people.
The village is served by a public high school, Southeastern Local High School, and a public elementary/middle school, Miami View Elementary School. South Charleston has a public library, which is a branch of the Clark County Public Library.
There, residents can enjoy a variety of recreational activities, visiting the bike and walking paths, and participating in the annual ball at the Heritage Commission. Local food is furnished during the Gingerbread Festival. Meanwhile, new residents can join the Masonic Lodge, American Legion, or other clubs in the community. South Charleston village officials say the town is a place "you can enjoy the pleasures of small-town life in a community that's in tune with the 21st century."
Dayton HVAC Repair Services
Unsure what's wrong with your furnace, heat pump, or air conditioning system? If you're experiencing cold air from your furnace, no heat, no cool air, strange smells, refrigerant leaks, or any other HVAC issue, book services now with Five Star in the Cincinnati, OH, area. Our team of professional service techs can perform a Diagnostic Service Call, free, with a paid repair. We'll investigate the issue and discuss with you the best options. Learn more about this deal.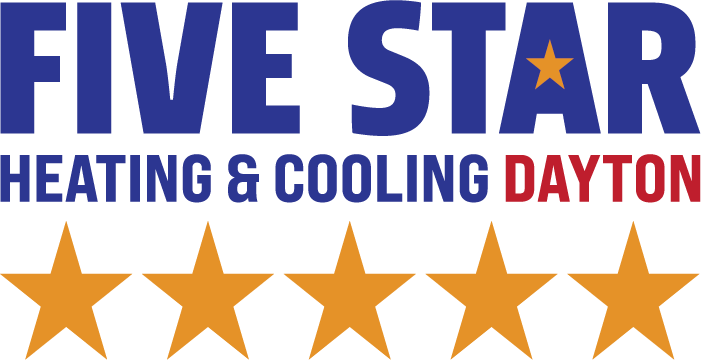 10% off Service Call
Book Now!

Air Conditioners, Furnaces, Heat Pumps, and More in Dayton, OH
Our team at Five Star Heating & Cooling Dayton proudly serves the residents of Miami Valley, among neighboring communities, with the absolute highest level of customer service possible at the most competitive and affordable prices in the market. For each and every customer we serve, day in and day out, we strive to provide our Five Star Experience each and every time.
The Gold Standard in HVAC Services Since 1972
We at Five Star Heating & Cooling Dayton are the real deal. We always strive to leverage the highest quality of services and superior HVAC products at the most competitive price rates in the local market. We strive to offer our customers the most and maintain our Five Star reputation. On each and every job we do, we guarantee customer satisfaction across the board because your satisfaction is our highest priority. We also have a Best Price Guarantee on all the industry's top equipment, with customer-focused hours.
For residents looking to stay cool during the hot Ohio summers, we have around-the-clock emergency HVAC repair service (365 days a year) as well as affordable A/C installation and air conditioning system replacement. We also have emergency furnace repair (available day and night as well), heat pump repair, furnace installation, and Heating system replacement. We service all brands and types of HVAC equipment, no matter the age! If you're looking to improve your home's Indoor Air Quality, we also offer a whole line of products that include humidifiers, dehumidifiers, air purifiers, UV lights, smart thermostats, and special air filters. This is in addition to the air duct cleaning service we provide for those who suspect their ductwork might need a professional hand.
Do you need to purchase a new residential furnace, heat pump, or air conditioning system but cannot pay all at once? Check out our current financing offer we at Five Star Heating & Cooling Dayton offer customers. We also have online deals that can't be topped in the local market. Our service areas include Greater Dayton, including Kettering, Jamestown, Springfield, Beavercreek, Fairborn, Xenia, Fairfield, Springboro, and much more. Experience the Five Star Difference today!
We Service All HVAC Brands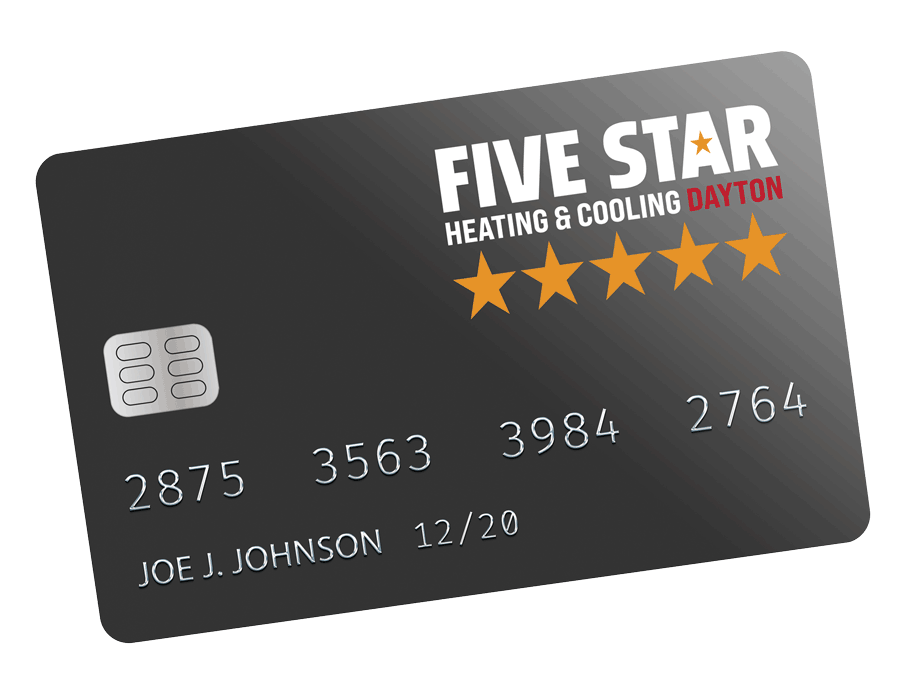 HVAC Financing for Homeowners in Dayton, OH
It's never been easier to get the best possible system for your home and pay over a period of time. HVAC system replacement can come as a surprise. We at Five Star recognize this, and that's why we offer different payment plans so you can enjoy comfort immediately, regardless of your budget. And when combined with tax credits, rebates, and online deals, financing makes your family's long-term comfort remarkably affordable. Buy today and pay over time with HVAC financing in Cincinnati, OH & surrounding areas.

Experience the Five Star Difference.


Free Estimates
Schedule Now

Service Call
with a paid repair