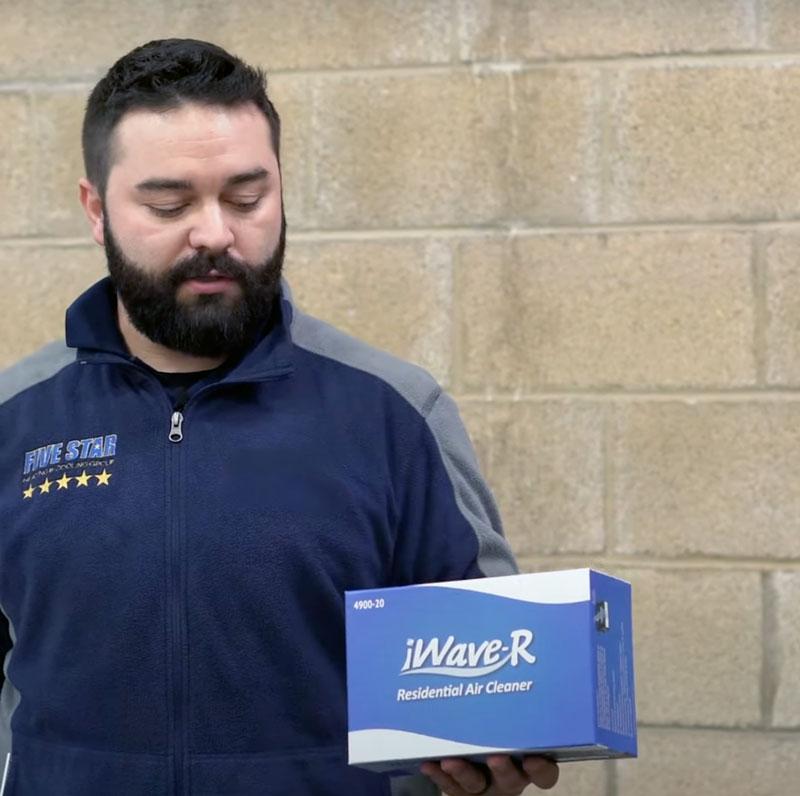 iWave-R Air Cleaner & Residential Air Purifiers in CIncinnati, OH
They take less than an hour to install but once they're in place, there's nothing quite like the residential iWave-R® when it comes to improving Indoor Air Quality. The iWave-R® reduces odors, germs, smoke, viruses, dust and static electricity from the air in a home.
No matter where you live, these types of things should be a concern. They should be minimized. The iWave-R is considered by many to be one of the best approaches to fighting these types of things and other biological components in the air as they combine the power of air cleaning with the effectiveness of air filtration. The iWave-R is a new and amazingly affordable and innovative product on the market that cleans air and works with the home's HVAC system. The iWave-R requires no maintenance and is self-cleaning.
Ask any one of our representatives at Five Star Heating & Cooling Cincinnati about this amazing Indoor Air Quality device that doesn't create any ozone byproducts as a result of the process.
Featured Deal
iWave-R Air Purifier Installation
With technology installed in over 200,000 applications, iWave-R® is the world's first self-cleaning, no-maintenance needlepoint bi-polar ionization generator designed specifically for treating air in residential duct A/C systems. Claim this deal today!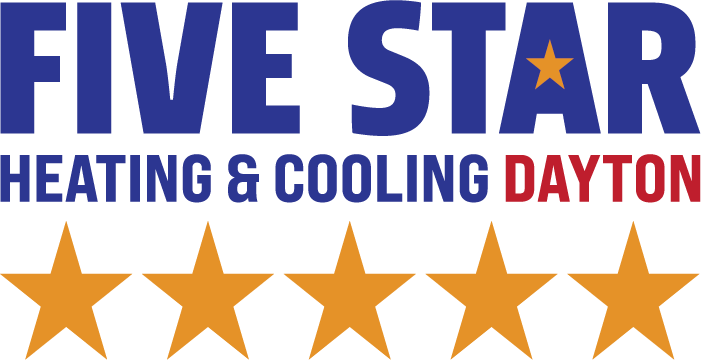 $899 iWave-R Air Purifier Installation
4 Benefits of a Residential Air Cleaner
Air purifiers can refresh stale air, reducing the chances of health issues caused by indoor pollutants, triggering respiratory infections, neurological problems, or aggravating symptoms in people living with asthma. Quality air purifiers eliminate several indoor air pollutants, keeping us healthy.
Eliminates Harmful Chemicals from Indoor Environments

Air purifiers with activated carbon can cleanse these chemical contaminants, avoiding the risk of several health problems. A highly porous form of carbon is used in this carbon filtering method to trap chemicals, recycling fresh air back into the room.
Can Increase Life Expectancy

Indoor air pollution can affect your cardiac, respiratory, and even neurological systems. Chemicals and gases from common household products can accumulate in your lungs. In fact, the airborne particles are so small that they penetrate the blood-brain barrier, impacting your brain and cognitive functions. A good air purifier traps even the fine particles providing you with better air quality.
Improves Sleep
Indoor allergens such as bacteria, fungi, and dust mites can trigger allergies or hay fever. Hay fever causes a runny nose and can last up to several weeks. Frequent sneezing, coughing, nose congestion, watery eyes, or sore throat are some common allergic symptoms, disrupting your sleep. Lack of adequate sleep causes daytime drowsiness, affecting your productivity the next morning. To avoid these sleep disruptions, it's best to use HEPA air purifiers because they filter out most allergens from your room. Cleaner air gives you a better night's sleep.
Removes Harmful Radon
To reduce the risk of radon pollution, use air purifiers. HEPA and activated carbon filters can trap radon particles and radon gas, protecting you from its harmful effects.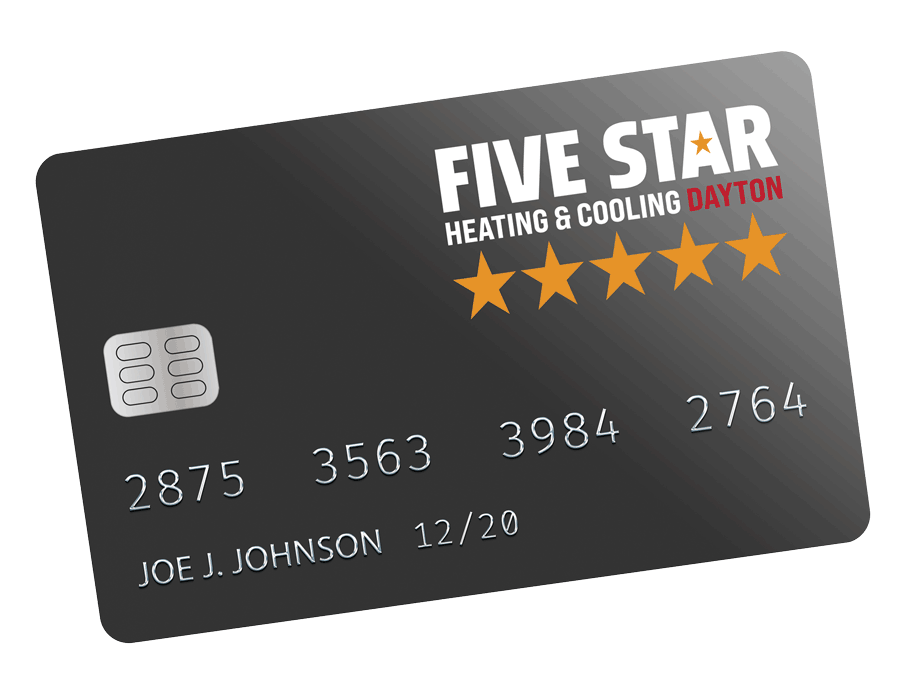 HVAC Financing for Homeowners in Dayton, OH
It's never been easier to get the best possible system for your home and pay over a period of time. HVAC system replacement can come as a surprise. We at Five Star recognize this, and that's why we offer different payment plans so you can enjoy comfort immediately, regardless of your budget. And when combined with tax credits, rebates, and online deals, financing makes your family's long-term comfort remarkably affordable. Buy today and pay over time with HVAC financing in Cincinnati, OH & surrounding areas.
Benefits of the iWave-R® Air Purifier
The iWave-R® is a highly innovative device that can be installed inside the air ducts of any HVAC system. It targets the outgoing air as it passes through the field of ions the system generates. These ions kill airborne mold, viruses, pathogens, bacteria, and allergens and remove other types of particles that may be causing odors, such as smoke. This is extremely helpful in providing superior Indoor Air Quality without any ozone byproducts as a result of the process. Here are a few benefits of the iWave-R®:
The device is self-sufficient in that it cleans itself by design
Kills all sorts of viruses, bacteria, mold and more
Purifies air and sanitizes it throughout the entire home
Doesn't release any harmful byproducts from operation
Maintenance and replacement parts are never required
It's easily installed into any HVAC system using magnetic mounts
iWave® and NuShield® Air Ionization Systems are manufactured for and sold by Nu-Calgon, a leader in indoor air quality and specialty chemicals for the HVACR market. For nearly 70 years, Nu-Calgon has been the brand you trust for quality products like Nu-Brite® coil cleaner, Rx11-flush® and EasySeal® leak sealant.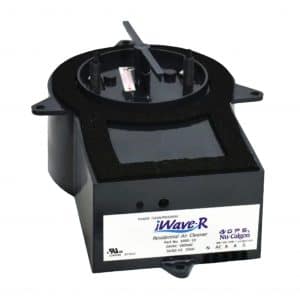 The Gold Standard in HVAC Services Since 1972
We at Five Star Heating & Cooling Dayton are the real deal. We always strive to leverage the highest quality of services and superior HVAC products at the most competitive price rates in the local market. We strive to offer our customers the most and maintain our Five Star reputation. On each and every job we do, we guarantee customer satisfaction across the board because your satisfaction is our highest priority. We also have a Best Price Guarantee on all the industry's top equipment, with customer-focused hours.
For residents looking to stay cool during the hot Ohio summers, we have around-the-clock emergency HVAC repair service (365 days a year) as well as affordable A/C installation and air conditioning system replacement. We also have emergency furnace repair (available day and night as well), heat pump repair, furnace installation, and Heating system replacement. We service all brands and types of HVAC equipment, no matter the age! If you're looking to improve your home's Indoor Air Quality, we also offer a whole line of products that include humidifiers, dehumidifiers, air purifiers, UV lights, smart thermostats, and special air filters. This is in addition to the air duct cleaning service we provide for those who suspect their ductwork might need a professional hand.
Do you need to purchase a new residential furnace, heat pump, or air conditioning system but cannot pay all at once? Check out our current financing offer we at Five Star Heating & Cooling Dayton offer customers. We also have online deals that can't be topped in the local market. Our service areas include Greater Dayton, including Kettering, Jamestown, Springfield, Beavercreek, Fairborn, Xenia, Fairfield, Springboro, and much more. Experience the Five Star Difference today!
We Service All HVAC Brands

Experience the Five Star Difference.


Free Estimates
Schedule Now

Service Call
with a paid repair