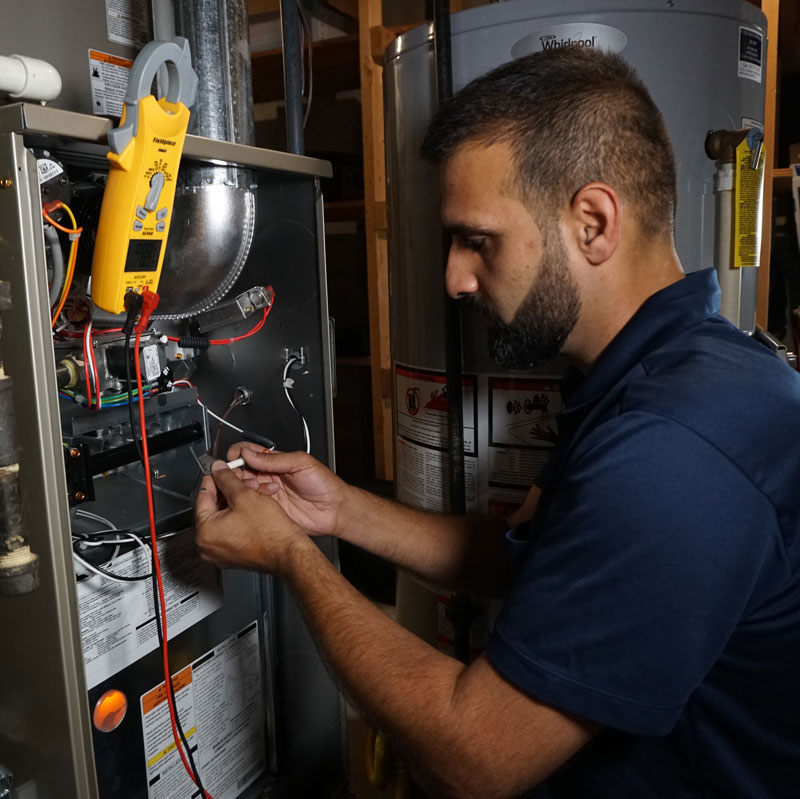 Furnace Repair & Heating System Services in Dayton, OH
With the eventual frigidity of Montgomery County's winter months looming on the horizon, homeowners need to make sure their home heating systems are primed and ready to go heading into Ohio's coldest season. Call a professional technician from Five Star Heating & Cooling Dayton to feel confident that your furnace or heating system is ready to keep your home cozy all season.
Whether your HVAC system is questionable ‒ perhaps it's getting old, in need of service, or it's ready for a replacement ‒ our dedicated team at Five Star Heating & Cooling Dayton offers all the HVAC services you could possibly need. We strive to provide the absolute best in furnace repair, furnace maintenance, and new system installation or replacement. So schedule a heating diagnostic call, or furnace tune-up, or get a free quote on heating system installation today!
4 Common Furnace Repairs
In our years of experience, we've come to find that if you're having issues with your furnace, it's likely one of the top 4 most common furnace problems that other homeowners also have dealt with. To help you determine when it's appropriate to call a licensed HVAC technician, we've composed the following list of common furnace problems:
Cracked Heat Exchanger
This is a very costly part to repair, and 9 times out of 10 can be prevented with regular maintenance.
Malfunctioning Thermostat
When we crank up the thermostat up, and the furnace doesn't respond, it could be a result of a bad thermostat, faulty wiring, or you could have leaks in your ductwork. This could lead to problems with the fan or comfort levels.
Flickering or Yellow Pilot Light
Your pilot light should be blue. If it's yellow, this could signify excess carbon monoxide and should be attended to immediately.
Clogged Air Filters
Dirty filters make your furnace have to work harder. This can lead to high heating bills and extensive damage to the limit switch.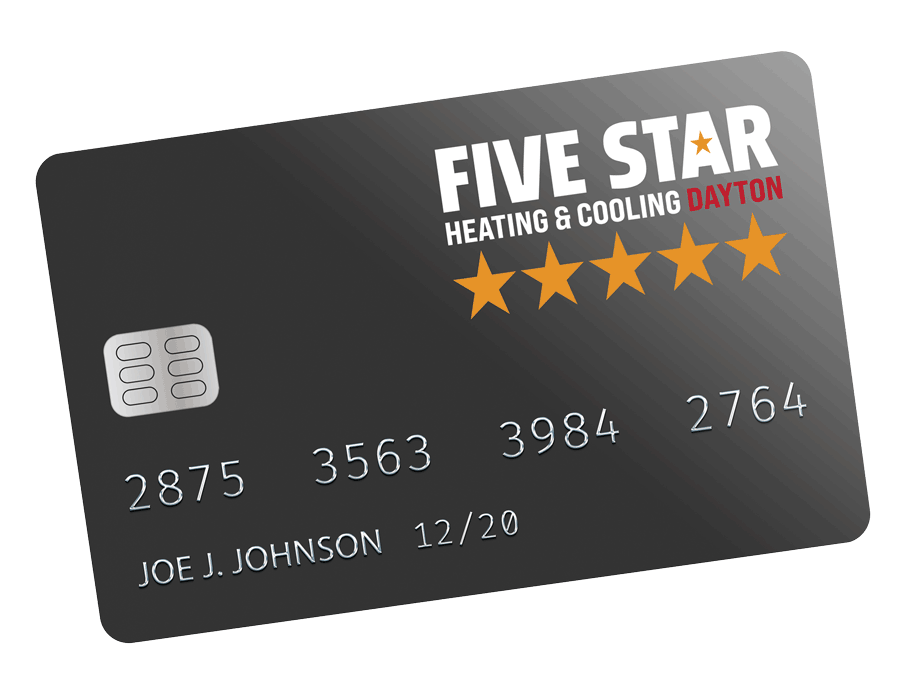 HVAC Financing for Homeowners in Dayton, OH
It's never been easier to get the best possible system for your home and pay over a period of time. HVAC system replacement can come as a surprise. We at Five Star recognize this, and that's why we offer different payment plans so you can enjoy comfort immediately, regardless of your budget. And when combined with tax credits, rebates, and online deals, financing makes your family's long-term comfort remarkably affordable. Buy today and pay over time with HVAC financing in Cincinnati, OH & surrounding areas.
"Who Can Repair My Furnace in Dayton, OH?"
Five Star Heating & Cooling Dayton technicians can service and repair any equipment (or parts connected to it) used to heat your home. This includes electric heaters, gas heaters, heat pumps, and more. Our top-notch HVAC service technicians drive state-of-the-art service vans fully stocked with all the latest in technology. When we service your system, if we find any part is faulty, we can replace it on the spot with your approval. We are prepared to handle anything, including ignitors, pilot lights, heat exchangers, breakers, fuses, burners, blowers, heat strips, switches, valves, and control boards.
GENERALLY SPEAKING, YOU SHOULD REPAIR YOUR HEATING SYSTEM IF:
The repair is relatively cheap and simple
This is your first need for repair
The unit is under 15 years of age
The unit is under warranty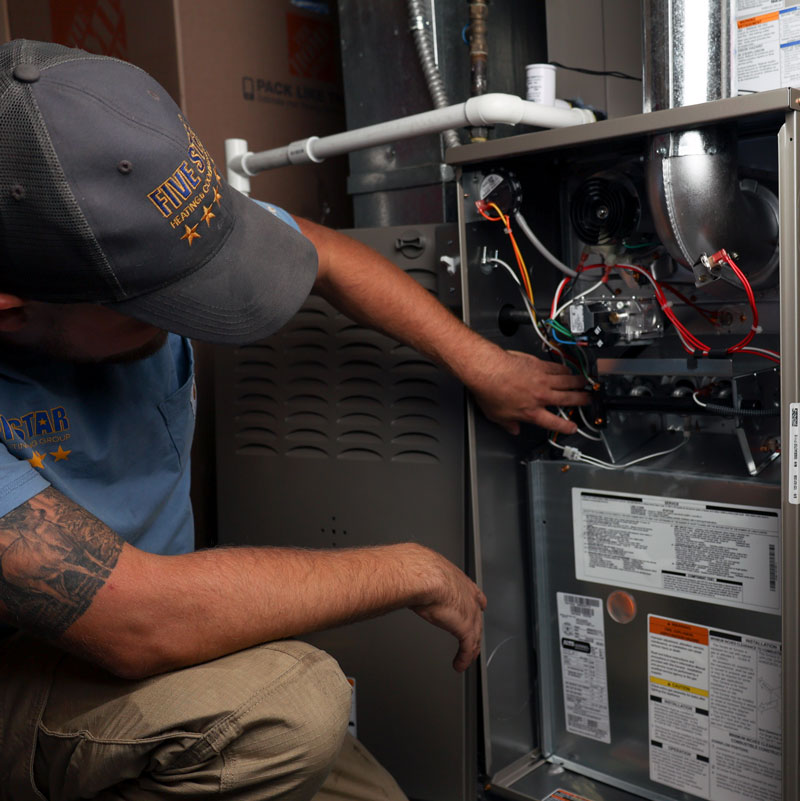 The Gold Standard in HVAC Services Since 1972
We at Five Star Heating & Cooling Dayton are the real deal. We always strive to leverage the highest quality of services and superior HVAC products at the most competitive price rates in the local market. We strive to offer our customers the most and maintain our Five Star reputation. On each and every job we do, we guarantee customer satisfaction across the board because your satisfaction is our highest priority. We also have a Best Price Guarantee on all the industry's top equipment, with customer-focused hours.
For residents looking to stay cool during the hot Ohio summers, we have around-the-clock emergency HVAC repair service (365 days a year) as well as affordable A/C installation and air conditioning system replacement. We also have emergency furnace repair (available day and night as well), heat pump repair, furnace installation, and Heating system replacement. We service all brands and types of HVAC equipment, no matter the age! If you're looking to improve your home's Indoor Air Quality, we also offer a whole line of products that include humidifiers, dehumidifiers, air purifiers, UV lights, smart thermostats, and special air filters. This is in addition to the air duct cleaning service we provide for those who suspect their ductwork might need a professional hand.
Do you need to purchase a new residential furnace, heat pump, or air conditioning system but cannot pay all at once? Check out our current financing offer we at Five Star Heating & Cooling Dayton offer customers. We also have online deals that can't be topped in the local market. Our service areas include Greater Dayton, including Kettering, Jamestown, Springfield, Beavercreek, Fairborn, Xenia, Fairfield, Springboro, and much more. Experience the Five Star Difference today!
We Service All HVAC Brands

Experience the Five Star Difference.


Free Estimates
Schedule Now

Service Call
with a paid repair