Furnace & Heating System Repair, Maintenance & Installation Services in Dayton, OH

With the eventual frigidity of Montgomery County's winter months looming on the horizon, homeowners need to make sure their home heating systems are primed and ready to go heading into Ohio's coldest season before it's too late. Call a professional technician from Five Star Heating & Cooling Dayton to feel confident that your furnace or heating system is ready to keep your home cozy all season.
4 Home Heating Tips for Dayton Homeowners
We hope you enjoy a comfortable and cozy winter in your well-heated Central Ohio home. More importantly than comfort, however, we want you to keep your residence safe throughout the winter and holidays. We've put together the following general home heating safety tips to follow to avoid any hazardous circumstances:
Install a Programmable Thermostat
A programmable thermostat allows you to preset temperatures for different times of the day because you don't need to keep your home at 68 degrees around the clock. Although one shouldn't be used with heat pumps, a programmable thermostat is a real money-saver with air-conditioning as well as with heat. Choose a setting on the low end when you're sleeping or are away, and go with a higher setting at other times for savings of between 10 and 20% of your bill.
Create Safe Spaces
Anything flammable or combustible should be kept at least three feet away from any and all heating equipment and heat sources, including furnaces, fireplaces, and portable space heaters. This area should be a "kid-free zone."
Learn the Details About Your Furnace's Warranty
Knowing the details about the warranty that came with the HVAC system in your home will benefit you down the road. Pay close attention to the period of coverage you have and the types of repairs your warranty covers. If you or your home's previous homeowners failed to hire a licensed professional to perform annual maintenance, your warranty could have been voided. You need to know if the warranty is still active and be mindful of things that could accidentally void it.
Replace Air Filters
Furnace filters must be checked every month during the winter and must usually be replaced just as often. Once you locate the filters, replacing them is as simple as pulling out the old ones and putting the new ones in. Before inserting the new furnace filters, write the date on one end for future reference. Depending on your home's age, it might also be a good idea to have a professional air duct cleaning and inspection performed.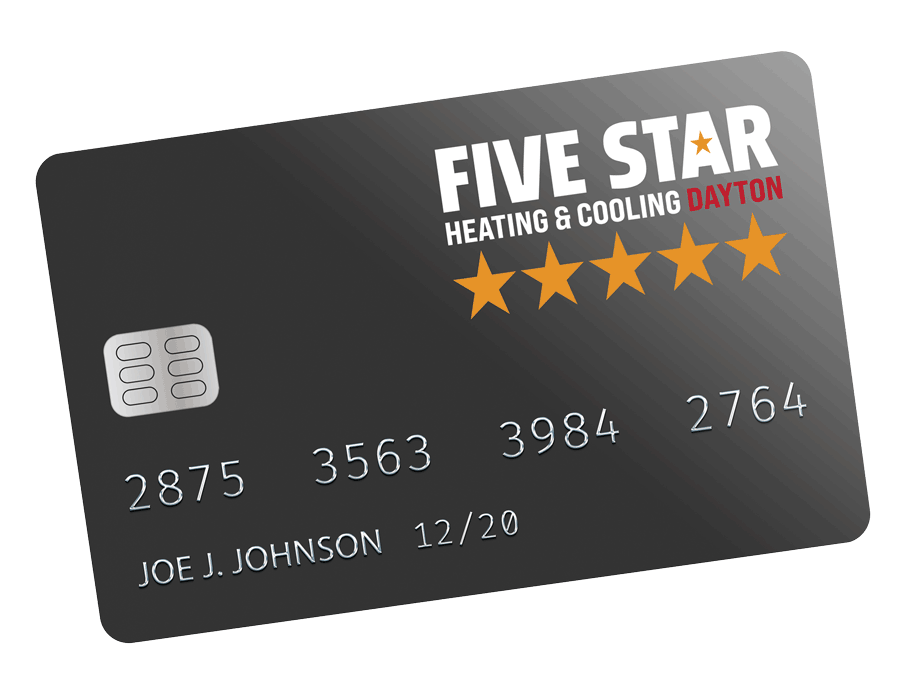 HVAC Financing for Homeowners in Dayton, OH
It's never been easier to get the best possible system for your home and pay over a period of time. HVAC system replacement can come as a surprise. We at Five Star recognize this, and that's why we offer different payment plans so you can enjoy comfort immediately, regardless of your budget. And when combined with tax credits, rebates, and online deals, financing makes your family's long-term comfort remarkably affordable. Buy today and pay over time with HVAC financing in Cincinnati, OH & surrounding areas.
Broken Furnace or Heating System near Dayton, OH? No Problem.
Let's be completely honest; if you're like a lot of homeowners these days, you really don't give your home's heating system a great deal of consideration on an average day. When it's cold outside, most of us expect to be able to turn up the dial on our thermostats and find our homes nice and warm in no time.
But what happens if that doesn't work? What happens when your heating system goes down and it's cold outside? Who can you trust to call?
At Five Star Heating & Cooling Dayton, we know what it's like to lose service in the cold. We rely on our own furnaces, in our own homes, to keep our own families warm. So when we get a call from a distraught customer late at night, perhaps even on a weekend or a holiday, we strive to treat each and every customer as if they were a member of our own family ‒ with the same level of care, compassion, equality, professionalism, and fairness in pricing. We even offer emergency heating services!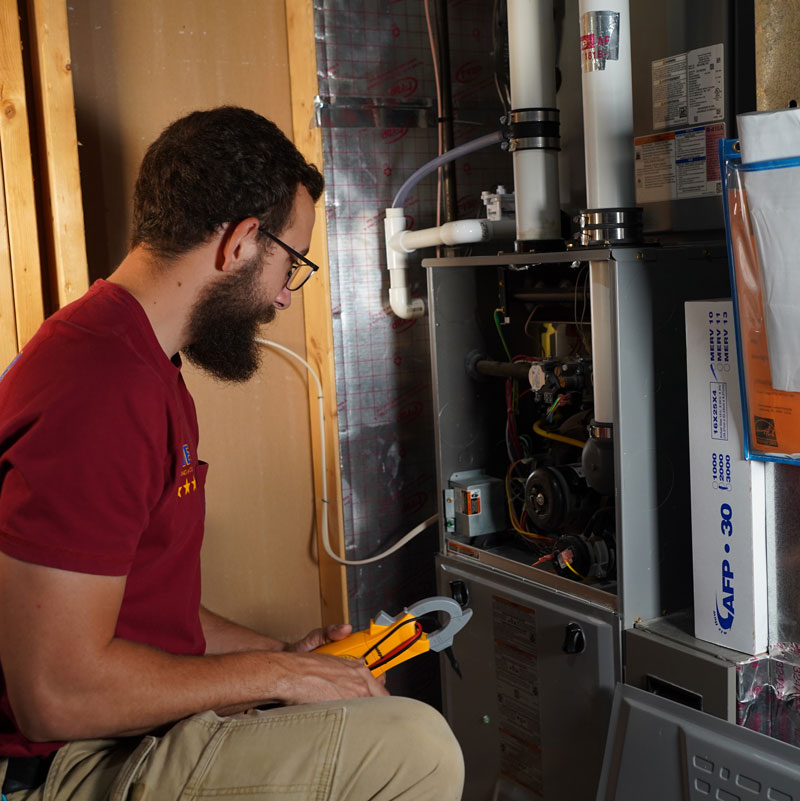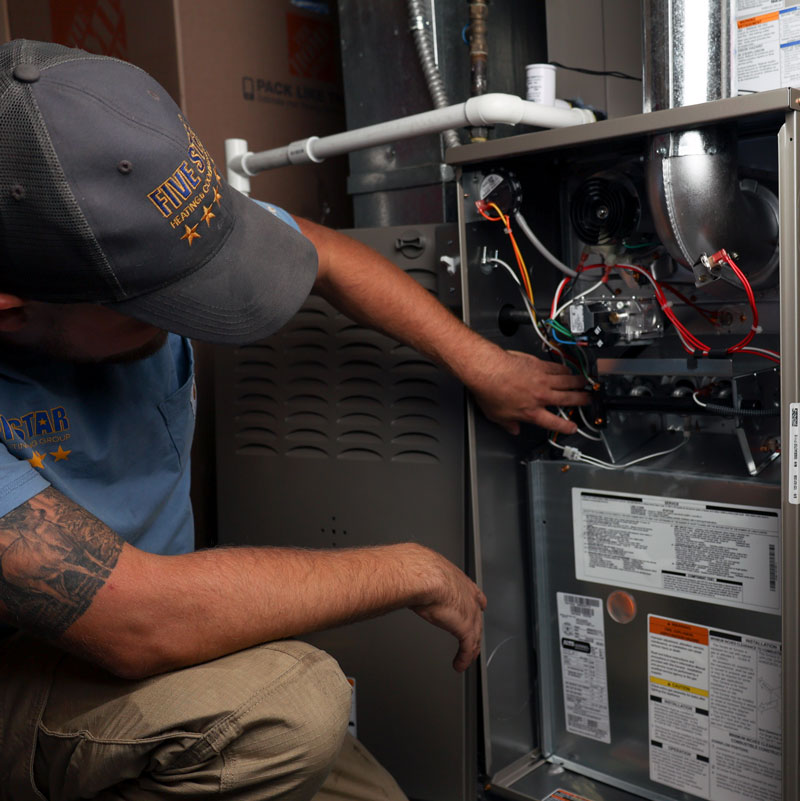 Understanding the Benefits of Heating System Maintenance
Because most of the problems that can harm a heating system are the types of things that go unnoticed until the damage is getting out of hand, you should not wait for symptoms of a problem to the surface before addressing it. The best way to deal with a problem that might not show symptoms is to have a professional perform preventative maintenance each year.
Maintenance gives us a chance to closely examine your system and isolate any problems that might be developing. In doing so, we can repair these problems before they have the chance to proliferate and damage the system. Consistent maintenance can decrease the odds of serious damage by up to 90%, and increase the energy efficiency of a system by up to 40% while extending the system's lifespan. In addition, consistent maintenance saves homeowners thousands of dollars in repair costs over the life of the average system.
Choosing the Right Heating System in Dayton, OH
We recognize that buying a home heating system is a major investment. Our friendly representatives will walk you through the entire process, carefully measuring your home and going over all the options with you in detail to determine the absolute best selections available for your home. We also offer financing options and online deals to take away the stress of a major purchase.
For nearly half a century, we have worked hard to become one of the most respected heating system installation providers in the Greater Dayton and Miami Valley areas. We carry a variety of products from the top-HVAC manufacturers in the industry.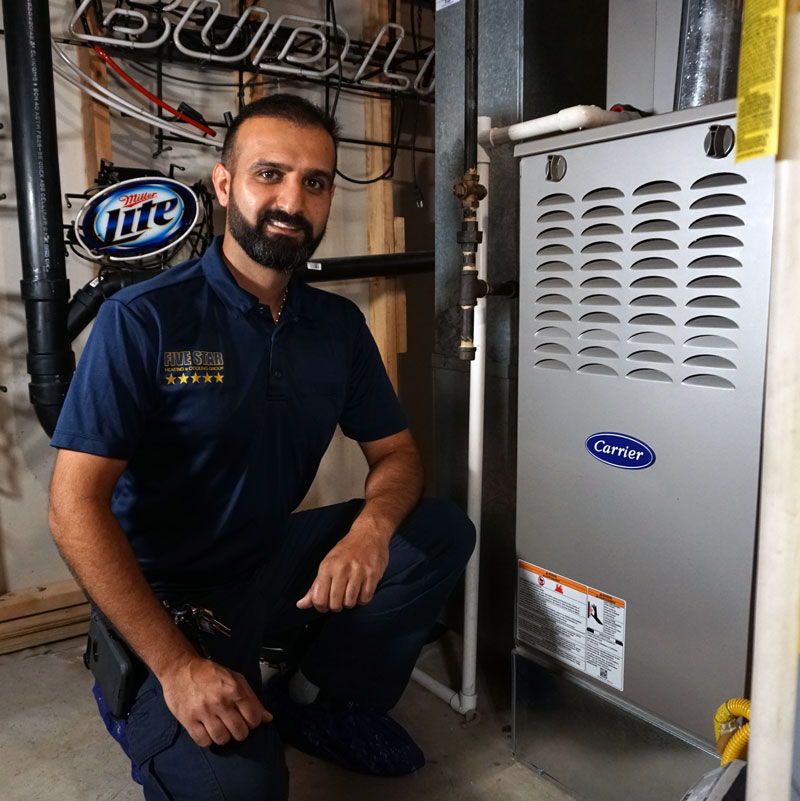 Dayton Area Heat Pump Services
Heat pumps have become a common alternative for homeowners in recent years because of their convenience and dependability. Heat pumps are great 2-in-1-systems for cooling and heating a residence. At Five Star Heating & Cooling Dayton, we offer a wide range of heat pump services in Dayton, OH, and surrounding areas! Are you interested in installing a heat pump in your Southwest Ohio area home? We can set you up with a heat pump that works in conjunction with your HVAC equipment, or it can be used to replace old equipment. We can install high-efficiency heat pumps at an amazing price. We can also repair an existing heat pump or perform heat pump maintenance. Experience the power of this dual-HVAC system and schedule your heat pump services with Five Star!
Don't go another day without a working heat pump. We repair all makes, models, and ages.
Heat pumps need yearly maintenance to heat and cool your home properly.
We have a selection of heat pumps for all budgets, home sizes, and existing HVAC systems.
The Gold Standard in HVAC Services Since 1972
We at Five Star Heating & Cooling Dayton are the real deal. We always strive to leverage the highest quality of services and superior HVAC products at the most competitive price rates in the local market. We strive to offer our customers the most and maintain our Five Star reputation. On each and every job we do, we guarantee customer satisfaction across the board because your satisfaction is our highest priority. We also have a Best Price Guarantee on all the industry's top equipment, with customer-focused hours.
For residents looking to stay cool during the hot Ohio summers, we have around-the-clock emergency HVAC repair service (365 days a year) as well as affordable A/C installation and air conditioning system replacement. We also have emergency furnace repair (available day and night as well), heat pump repair, furnace installation, and Heating system replacement. We service all brands and types of HVAC equipment, no matter the age! If you're looking to improve your home's Indoor Air Quality, we also offer a whole line of products that include humidifiers, dehumidifiers, air purifiers, UV lights, smart thermostats, and special air filters. This is in addition to the air duct cleaning service we provide for those who suspect their ductwork might need a professional hand.
Do you need to purchase a new residential furnace, heat pump, or air conditioning system but cannot pay all at once? Check out our current financing offer we at Five Star Heating & Cooling Dayton offer customers. We also have online deals that can't be topped in the local market. Our service areas include Greater Dayton, including Kettering, Jamestown, Springfield, Beavercreek, Fairborn, Xenia, Fairfield, Springboro, and much more. Experience the Five Star Difference today!
We Service All HVAC Brands

Experience the Five Star Difference.


Free Estimates
Schedule Now

Service Call
with a paid repair