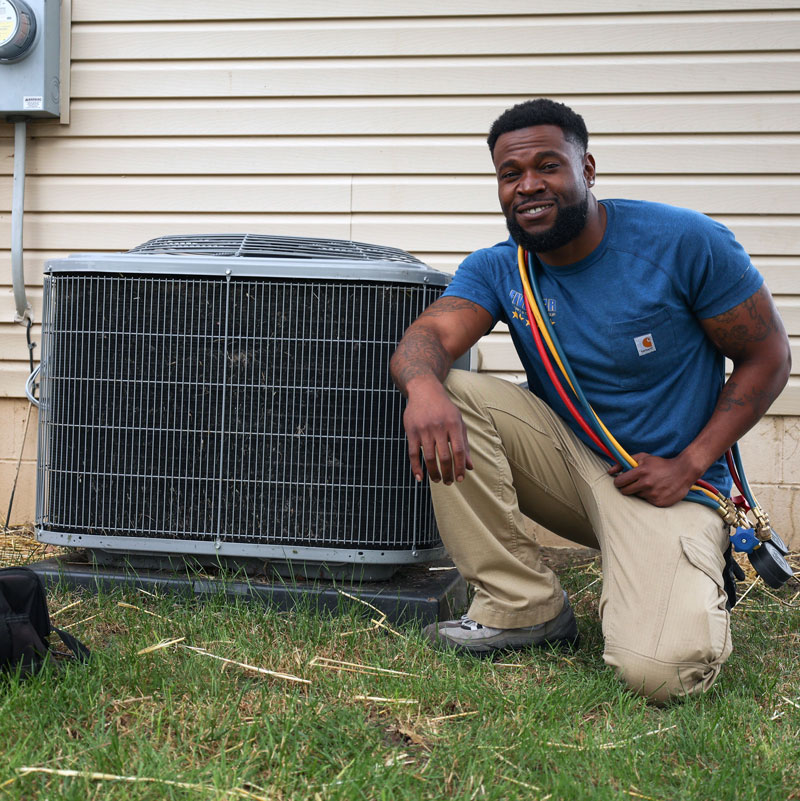 Heat Pump Installation & Replacement Services in Dayton, OH
Our team at Five Star Heating & Cooling Dayton offers heat pump installation and replacement year-round throughout the Greater Miami Valley as heat pumps grow in popularity as effective HVAC systems being used year-round. Because heat pumps provide you with crisp cool air during the hot months of summer and nice warm heated air during the winter, they aren't merely an alternative for the traditional gas or electric furnace; they can also replace a traditional AC system.
What makes this possible? A regular AC extracts the hot air from your home and blows it outside, which is how it cools your home. On the other hand, heat pumps, "pump" in cool air or warm air, depending on the season, which is one of the biggest perks of having a heat pump. This single HVAC system can perform both heating and cooling, which is what makes heat pumps so popular. Get a free quote on heat pump installation today!
Featured Deal
Free Online Estimate
There comes a point when your furnace, heat pump, or AC just doesn't cut it anymore. Maybe your energy bills have skyrocketed, or the rooms in your home are heating or cooling unevenly. Whatever the case, it might be time to consider a Columbus area furnace replacement. Choose Five Star Heating & Cooling! We'll come out an asses your system, home and your needs - for free.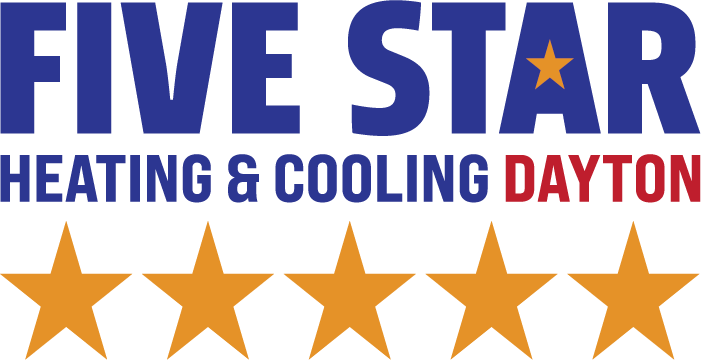 $0 Instant Online Estimate
Get a free quote!
4 Types of Heat Pumps
At Five Star Heating & Cooling, we prioritize having a selection of quality equipment from industry-leading manufacturers such as Amana®, Lennox®, Goodman®, Rheem®, and more. Learn more about some of the top manufacturers in the HVAC industry.
Absorption Heat Pumps
A relatively new type of heat pump for residential systems is the absorption heat pump (AHP), also called a gas-fired heat pump. Absorption heat pumps use heat or thermal energy as their energy source, and can be driven with a wide variety of heat sources such as combustion of natural gas, steam solar-heated water, air or geothermal-heated water, and therefore are different from compression heat pumps that are driven by mechanical energy. AHPs are more complex and require larger units compared to compression heat pumps. The lower electricity demand of such heat pumps is related to liquid pumping only.
Ductless Air-Source Heat Pumps

For homes without ducts, air-source heat pumps are also available in a ductless version called a mini-split heat pump. In addition, a particular type of air-source heat pump called a "reverse cycle chiller" generates hot and cold water rather than air, allowing it to be used with radiant floor heating systems in heating mode.
Ducted Air-Source Heat Pumps
The most common type of heat pump is the air-source heat pump, which transfers heat between your house and the outside air. Today's heat pump can reduce your electricity use for heating by approximately 50% compared to electric resistance heating such as furnaces and baseboard heaters. High-efficiency heat pumps also dehumidify better than standard central air conditioners, resulting in less energy usage and more cooling comfort in the summer months.
Geothermal Heat Pumps

Geothermal (ground-source or water-source) heat pumps reach higher efficiencies by transferring heat between your house and the ground or a nearby water source. Although they cost more to install, geothermal heat pumps have low operating costs because they take advantage of relatively constant ground or water temperatures.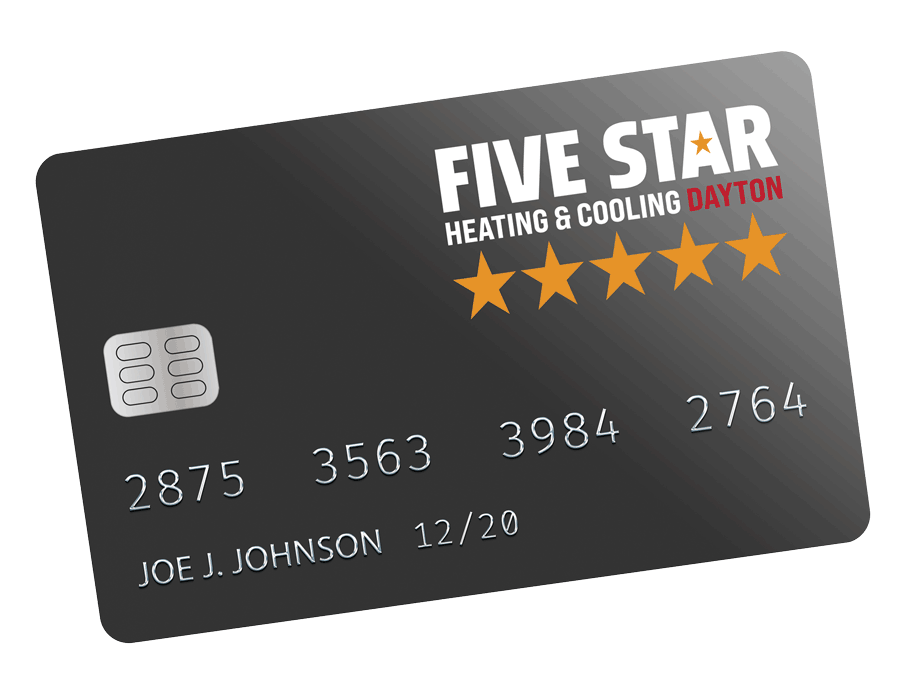 HVAC Financing for Homeowners in Dayton, OH
It's never been easier to get the best possible system for your home and pay over a period of time. HVAC system replacement can come as a surprise. We at Five Star recognize this, and that's why we offer different payment plans so you can enjoy comfort immediately, regardless of your budget. And when combined with tax credits, rebates, and online deals, financing makes your family's long-term comfort remarkably affordable. Buy today and pay over time with HVAC financing in Cincinnati, OH & surrounding areas.
Choose Five Star for Heat Pump Replacement in Southern Ohio
If you do not already have a heat pump and you decide to get one, installation involves replacing your existing air conditioner and furnace. Depending on whether your home uses electricity or natural gas for heating, having a heat pump installed might be the right choice for you.
Looking to purchase a new residential heat pump in Dayton, OH? Call the installation experts of Five Star Cincinnati! We offer a FREE Instant Online Estimate for our customers, with no hidden costs or surprises. You can fill out the online form to get started today! We install heat pumps in Beavercreek, Springfield, Xenia, Yellow Springs, and much more.
Things you'll need to know:
How big is your home? (sq. ft)
What year was your home built?
Where is your current HVAC system located? (basement, closet, etc.)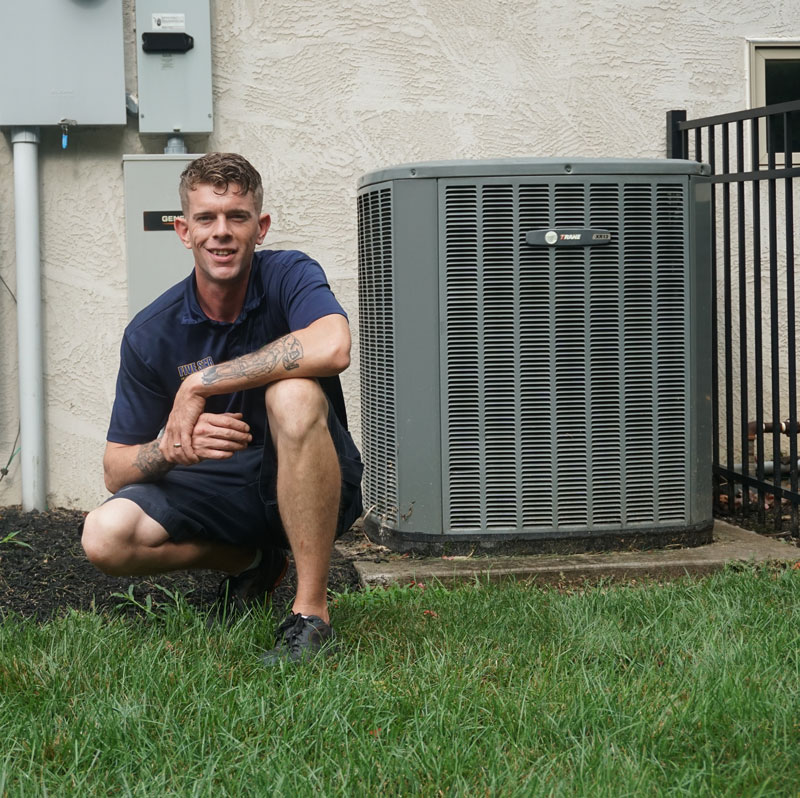 The Gold Standard in HVAC Services Since 1972
We at Five Star Heating & Cooling Dayton are the real deal. We always strive to leverage the highest quality of services and superior HVAC products at the most competitive price rates in the local market. We strive to offer our customers the most and maintain our Five Star reputation. On each and every job we do, we guarantee customer satisfaction across the board because your satisfaction is our highest priority. We also have a Best Price Guarantee on all the industry's top equipment, with customer-focused hours.
For residents looking to stay cool during the hot Ohio summers, we have around-the-clock emergency HVAC repair service (365 days a year) as well as affordable A/C installation and air conditioning system replacement. We also have emergency furnace repair (available day and night as well), heat pump repair, furnace installation, and Heating system replacement. We service all brands and types of HVAC equipment, no matter the age! If you're looking to improve your home's Indoor Air Quality, we also offer a whole line of products that include humidifiers, dehumidifiers, air purifiers, UV lights, smart thermostats, and special air filters. This is in addition to the air duct cleaning service we provide for those who suspect their ductwork might need a professional hand.
Do you need to purchase a new residential furnace, heat pump, or air conditioning system but cannot pay all at once? Check out our current financing offer we at Five Star Heating & Cooling Dayton offer customers. We also have online deals that can't be topped in the local market. Our service areas include Greater Dayton, including Kettering, Jamestown, Springfield, Beavercreek, Fairborn, Xenia, Fairfield, Springboro, and much more. Experience the Five Star Difference today!
We Service All HVAC Brands

Experience the Five Star Difference.


Free Estimates
Schedule Now

Service Call
with a paid repair