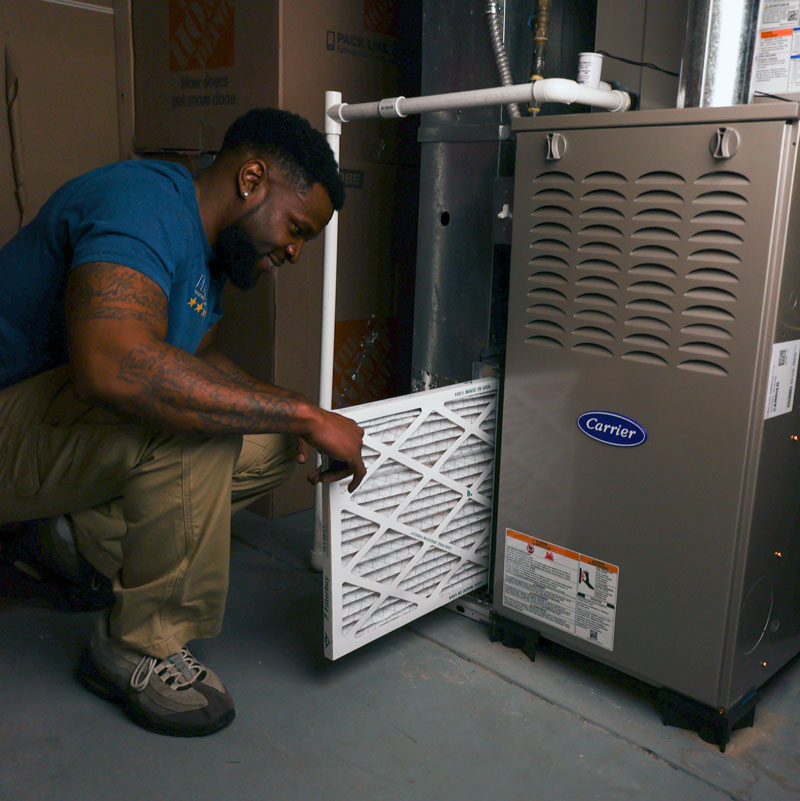 Media Air Filter Services in Dayton, OH
Air filters are an essential part of your home's HVAC system, capturing dust, pollen, and other allergens as they float throughout your home. Furthermore, clean air filters extend any HVAC system's life, and they can decrease the need for repairs caused by the stress they put on your HVAC system from poor airflow. It would be best if you were replacing your air filters regularly and as needed. Air filters need to be replaced every couple of months.
If you're looking to improve your indoor air quality with air filters in your Dayton, OH home, our team at Five Star Heating & Cooling Dayton would be happy to set you up with an air filter or air cleaner that works with your existing HVAC system. Schedule air cleaner services today!
Free Online Estimate
There comes a point when your furnace, heat pump, or AC just doesn't cut it anymore. Maybe your energy bills have skyrocketed, or the rooms in your home are heating or cooling unevenly. Whatever the case, it might be time to consider a Columbus area furnace replacement. Choose Five Star Heating & Cooling! We'll come out an asses your system, home and your needs - for free.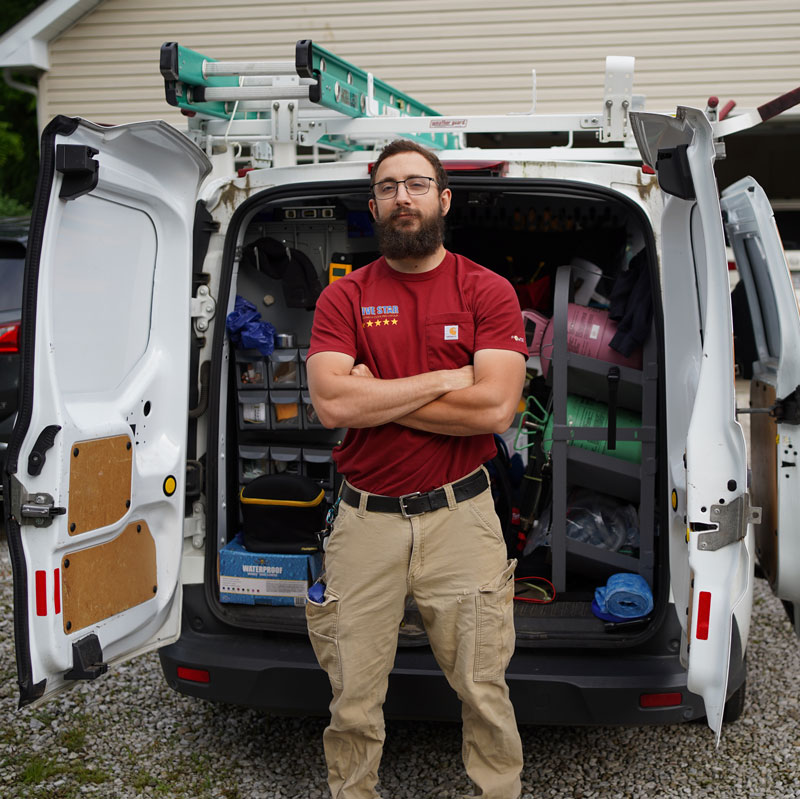 4 Benefits of Media Air Cleaner
Here are some ways a media air cleaner improves air quality in your home and is also light on your pocket.
Captures Pathogens
A media air cleaner can capture up to 98 percent of airborne particles. These particles also contain bacteria, mold spores, and even viruses, which can cause dangerous and even deadly diseases in humans.
Flexible
These media air cleaners can be fitted in return air ducts or plenums, air handlers of furnaces, whether they are fueled by gas, oil, or electricity.
Captures Invisible Particulates
As air flows through the cleaner, it traps tiny particles as small as 0.1 microns. If you want to understand how minuscule a micron is, the average thickness of human hair is between 30 to 100 microns!
High Efficiency & Low Cost:
A media air cleaner contains enough air filtering capacity to last for several months without clogging up, preventing air flow or putting a strain on the air handler. Low air resistance means low energy loss and high efficiency. That means low electricity bills. Regular air filters need to be replaced every 1-3 months but media air cleaners can be replaced just once in 1 or 2 years, depending on your HVAC use.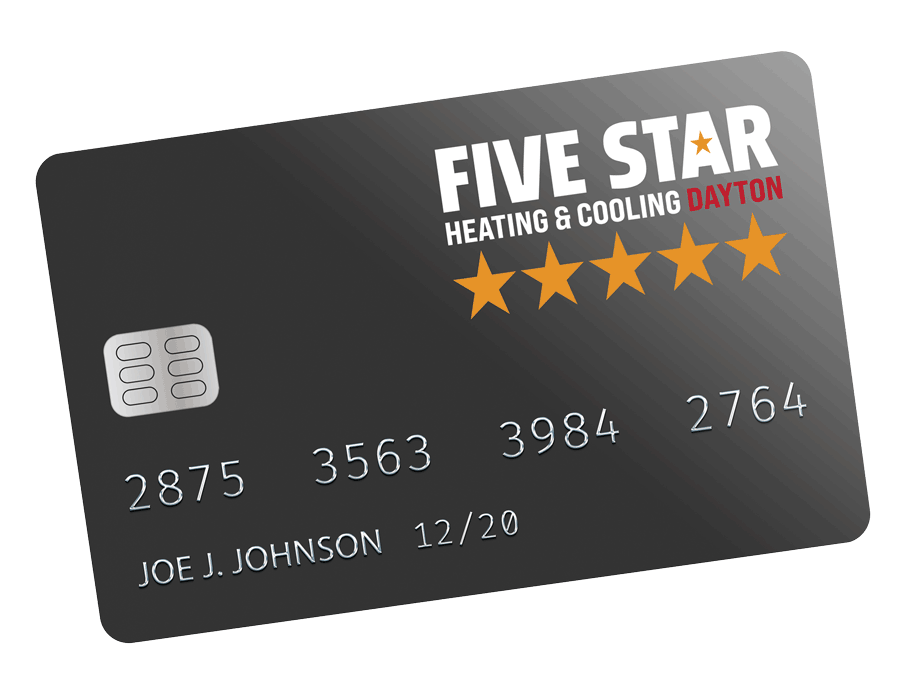 HVAC Financing for Homeowners in Dayton, OH
It's never been easier to get the best possible system for your home and pay over a period of time. HVAC system replacement can come as a surprise. We at Five Star recognize this, and that's why we offer different payment plans so you can enjoy comfort immediately, regardless of your budget. And when combined with tax credits, rebates, and online deals, financing makes your family's long-term comfort remarkably affordable. Buy today and pay over time with HVAC financing in Cincinnati, OH & surrounding areas.
How Often Should You Change Air Filters?

Air filters should be changed regularly in your home to keep your system running smoothly and to maintain optimal air quality. It can be easy to forget this small HVAC maintenance aspect, especially if you don't know how often to change it. The frequency at which your air filter should be changed depends on a variety of factors, including the type of filter in your HVAC unit. For best results, consult with your HVAC technician.
Many other factors contribute to the longevity of your air filter:
Home size: Larger homes circulate larger amounts of air which means the filter may need to be changed more frequently than those in smaller homes.
Air quality: If you live in a bigger or more occupied city, the air in your home may be more polluted with excess smog, dust, and debris. This can make your air filter work overtime, which means it will need to be changed more often.
Pets: Since common household pets can shed and track in dirt from outside, you'll need to change the filter regularly to keep it clear of pet hair and dander.
Allergies or medical conditions: Homeowners with severe allergies, asthma, or other respiratory conditions should consider changing the air filter more often than usual to prevent flare-ups.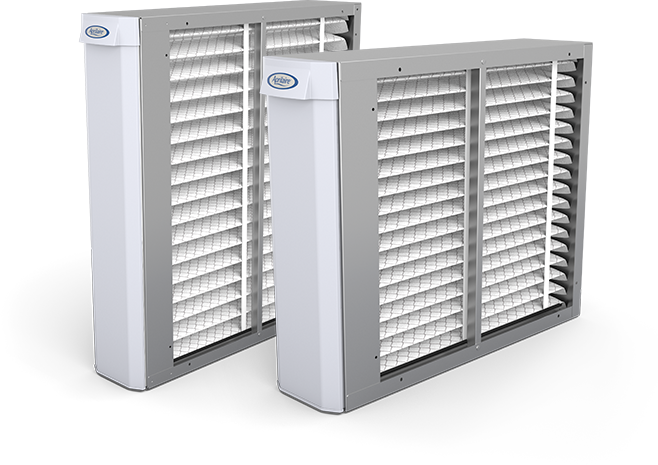 The Gold Standard in HVAC Services Since 1972
We at Five Star Heating & Cooling Dayton are the real deal. We always strive to leverage the highest quality of services and superior HVAC products at the most competitive price rates in the local market. We strive to offer our customers the most and maintain our Five Star reputation. On each and every job we do, we guarantee customer satisfaction across the board because your satisfaction is our highest priority. We also have a Best Price Guarantee on all the industry's top equipment, with customer-focused hours.
For residents looking to stay cool during the hot Ohio summers, we have around-the-clock emergency HVAC repair service (365 days a year) as well as affordable A/C installation and air conditioning system replacement. We also have emergency furnace repair (available day and night as well), heat pump repair, furnace installation, and Heating system replacement. We service all brands and types of HVAC equipment, no matter the age! If you're looking to improve your home's Indoor Air Quality, we also offer a whole line of products that include humidifiers, dehumidifiers, air purifiers, UV lights, smart thermostats, and special air filters. This is in addition to the air duct cleaning service we provide for those who suspect their ductwork might need a professional hand.
Do you need to purchase a new residential furnace, heat pump, or air conditioning system but cannot pay all at once? Check out our current financing offer we at Five Star Heating & Cooling Dayton offer customers. We also have online deals that can't be topped in the local market. Our service areas include Greater Dayton, including Kettering, Jamestown, Springfield, Beavercreek, Fairborn, Xenia, Fairfield, Springboro, and much more. Experience the Five Star Difference today!
We Service All HVAC Brands

Experience the Five Star Difference.


Free Estimates
Schedule Now

Service Call
with a paid repair