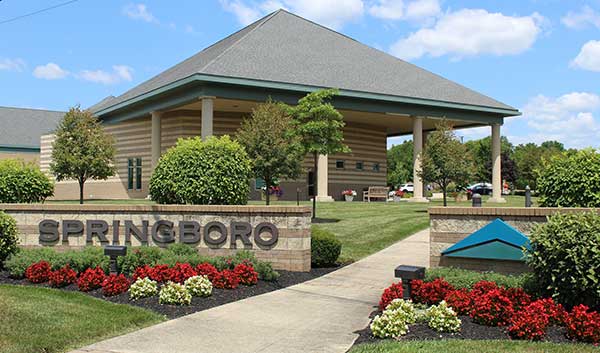 Expert Heating, Cooling & Indoor Air Quality Services in Springboro, Ohio
At Five Star Heating & Cooling Dayton, we offer every kind of HVAC service imaginable, from A to Z, all of which come at competitive, affordable, prices our competitors find hard to beat. And we are happy to extend these services to all the residents of Springboro, OH. Check out our special online deals!
In addition to HVAC system repairs and installations, for residents looking to get the most out of their system and save money on energy bills, we provide AC maintenance and furnace maintenance year-round on all varieties of home heating and cooling systems, or any HVAC system for that matter. Experts strongly urge homeowners to take advantage of routine preventative HVAC maintenance, before the commencement of each season of usage, regardless of the system or its age.
Choose Five Star Heating & Cooling Dayton for your next Heating, Cooling, or Indoor Air Quality needs. Experience the Five Star Difference in Springboro!









Getting to Know Sprinboro, OH
Considered an upscale suburb of Dayton and Cincinnati, Springboro is a city in Warren County with a small portion in Montgomery County. It has a population of almost 19,000 people. Located at the center of the Cincinnati-Dayton Metroplex, which is the 14th largest urban area in the United States, Springboro was ranked as the 42nd best place to live in America by Money magazine in 2011. In 2014, it gained the ranking as the 10th best suburb in America by Business Insider. Springboro is accessible by three of the major expressways in the region.
Near the city's northern border along the Montgomery-Warren County border, the Dayton-Wright Brothers Airport is located along the Springboro Pike. It exclusively serves private jets and small airplanes, however, it has a small museum with a scale-replica of the original Wright-B Flyer.
Settled as early as 1796, Springboro was founded in 1815 by Jonathan Wright, originally spelled as "Springborough." During the earliest years, Springboro was predominantly Quaker. Two mills and a woolen factory were built in the 1830s on the abundant springs for which the town derived its name. With its Quaker origins, Springboro served as a stopping place on the Underground Railroad, playing an important role in providing hiding places for people who were escaping the atrocity that was slavery in the south. Because of this, in October of 1999, Springboro became the first city to put up an Ohio Underground Railroad Historic Marker.
In what would redefine the city and carry it into modern times, beginning in the late 1960s the population of Springboro's population began to explode. Powered by the growth of the Dayton Area, Springboro went from being a sleepy town along I-75 to becoming a real estate hotspot in the Miami Valley. The growth also resulted in a new highway exit being created at I-75.
Today, Springboro is considered one of the most prominent suburbs in the Cincinnati-Dayton metro area because it serves as a stronghold on the growth between them. The current mayor of Springboro is John H. Agenbroad. He won reelection in 2019. In addition to the Wright B. Flyer Museum, Springboro has a whole host of things to do and places to go. They have the La Comedia Dinner Theatre on the city's west side. They also operate a slew of parks and bike hubs and local restaurants and shops.
Every September, the Springboro United Church of Christ puts on their Oktoberfest in the city center, which features authentic German food and drink, games, and live entertainment. Every November, city residents gather in the city center along Main Street to host Christmas in Springboro. This attracts people from all over to visit with local residents, vendors, and other guests from around the region. It's meant to launch the Christmas season.
Quality Heating, Cooling & Indoor Air Quality Services in Springboro, OH
Our team at Five Star Heating & Cooling Dayton proudly serves the residents of Springboro, Ohio, among neighboring communities, with the absolute highest level of customer service possible at the most competitive and affordable prices in the market. For each and every customer we serve, day in and day out, we strive to provide our Five Star Experience each and every time.
For those Springboro residents looking to stay cool during the hot, Ohio summers, we have around-the-clock emergency HVAC repair service (365 days a year) as well as affordable A/C installation and air conditioning system replacement. We also have emergency furnace repair (available day and night as well), heat pump repair, and furnace installation, and heating system replacement. We service all brands and types of HVAC equipment, no matter the age!
If you're looking to improve your home's Indoor Air Quality, we also offer a whole line of products that include humidifiers, dehumidifiers, air purifiers, UV lights, smart thermostats, and special air filters. This is in addition to the air duct cleaning service we provide, for those who suspect their ductwork might need a professional hand.
Our trucks stay fully stocked, outfitted with all sorts of cutting-edge, high-quality, HVAC equipment, parts, and tools. This includes a wide range of furnace filters, HEPA filters, AC filters, and all sorts of other parts. We stay up-to-date with the latest technology in thermostats, including smart thermostats and programmable thermostats, which cost less than you'd think and yet pay for themselves quickly with the added convenience and energy savings. We also fix AC fans and AC compressors, in addition to recharging AC refrigerant levels when necessary. This, we should mention, should only be performed by a professional as air conditioning refrigerant is hazardous. We also service electric furnaces, gas furnaces, and heat pumps.